Pride Goes Before Destruction (with Prayer of Repentance from Pride)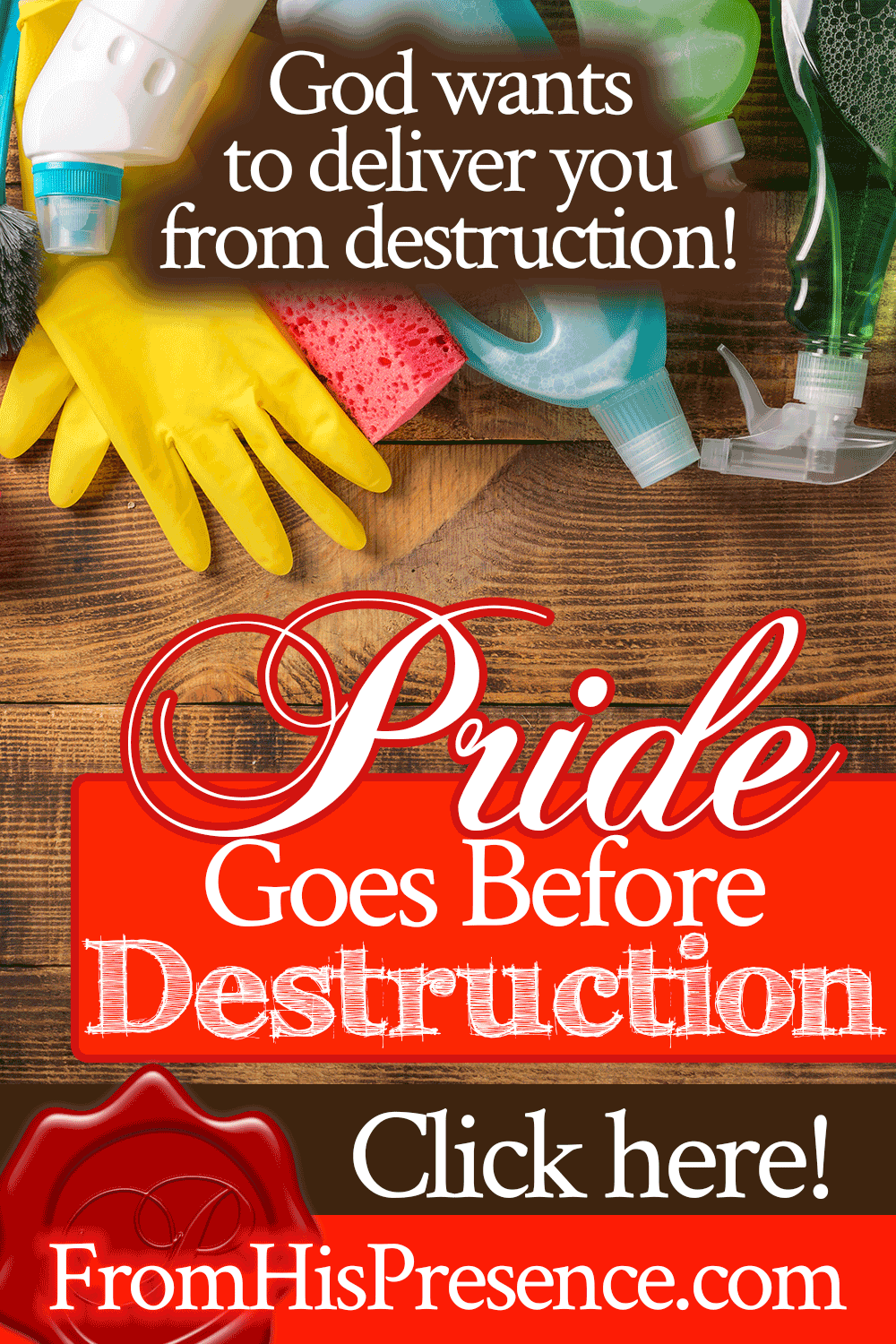 Do you want to avoid experiencing destruction in your life? Would you rather not fall down or be shamed in front of others?
If so, beloved, there is one way to do it: flee from pride in all its forms and actively humble yourself before God. Pride goes before destruction, but you can avoid destruction if you will embrace humility instead of pride.
I have struggled a lot with pride in my life.
Before I made Jesus Christ my Lord and Savior, I was an extremely arrogant and prideful person. My friends and I were "birds of a feather," too; so we all used to hang out together and talk trash to one another.
Back then, we (and I) would brag about how much better we were than another person, how great we were, et cetera. Whether we were talking about playing sports, playing pool, studying in school, intelligence, or any other topic related to daily life, we were full of ourselves. We were all puffed up, and we found camaraderie (amongst ourselves) in saying so.
Of course, we thought it was all in good fun.
No one ever wants to admit they are proud, so we concealed it all under the guise of "we're just joking." However, looking back, Holy Spirit has convicted me so much over the decades that now I can definitely see how puffed up and prideful we were (and me in particular).
After I made Jesus my Lord and Savior, Holy Spirit began convicting me about pride.
He started the conviction process with one verse:
"Let another man praise you, and not your own mouth; a stranger, and not your own lips" (Proverbs 27:2).
I was reading my Bible one day and came across that verse. Remember, I had just gotten saved and begun reading my Bible–so I had no idea that this verse was in the Scriptures! I had definitely never heard it before. But, Holy Spirit cut me with it.
Remember that the Word of God will always cut you–in a good way.
Hebrews 4:12 says:
"For the word of God is living and powerful, and sharper than any two-edged sword, piercing even to the division of soul and spirit, and of joints and marrow, and is a discerner of the thoughts and intents of the heart" (Hebrews 4:12 NKJV).
God's Word is alive and powerful. It is sharp, and it will run swiftly into your heart and pierce, cut, divide, and separate the things that are from God from the things that are not. God's Word will expose and reveal sin in our hearts, thoughts, and intentions … and this is a very good thing.
Well, beloved, God's Word began to cut me.
Suddenly, I began seeing how ugly it was to walk around talking about how great I was. (I only did so with my close friends, but it was still ugly!)
The Lord showed me how prideful I was, and how I had pridefully exalted myself in every manner of situation–even if it was only in my own mind. And I got convicted of my sin.
I did not stop these prideful thoughts and actions right away, but the process of repentance and change began right away.
Pride is a sin, and sins become strongholds when they are repeated. You build a stronghold or construct (a thought pattern or "house") of sinful thinking when you repeat a sin over and over, and I had repeated the sin of pride thousands or millions of times. So I had a huge stronghold of the sin of pride.
Nevertheless, Holy Spirit began dealing with me about pride. He showed me that I had to take every thought captive to the obedience of Christ, as it says in 2 Corinthians 10:4-6:
"For the weapons of our warfare are not carnal but mighty in God for pulling down strongholds, casting down arguments and every high thing that exalts itself against the knowledge of God,

bringing every thought into captivity to the obedience of Christ, and being ready to punish all disobedience when your obedience is fulfilled" (2 Corinthians 10:4-6 NKJV, emphasis mine).
This means that, every time I had a prideful thought pass through my mind, I had to do the following:
Recognize it as a prideful thought–and thereby recognize it as sin;
Reject it, refusing to entertain it or play with it;
Literally imagine myself throwing that thought at the feet of Jesus; and
Choose to think a humble thought from God's Word instead (replacing the sin with something holy).
An example of a humble thought might be as follows:
"Lord, I just got promoted, but I know it wasn't by my own merit. You have anointed me to work this job, and You're giving me wisdom and doing this job through me every single day. Thank You for blessing me for something that You, Yourself, are doing. Thank You for Your grace and help, Father."
I had to actively choose to replace prideful thoughts with holy, humble thoughts.
You can't just kick a sin, demon, or temptation out without filling that space in your life with God. If you leave empty space, demons will come back and fill it. Jesus was very clear about this in Luke 11:24-26:
"When an unclean spirit goes out of a man, he goes through dry places, seeking rest; and finding none, he says, 'I will return to my house from which I came.' And when he comes, he finds it swept and put in order. 

Then he goes and takes with him seven other spirits more wicked than himself, and they enter and dwell there; and the last state of that man is worse than the first" (Luke 11:24-26 NKJV).
So whenever you kick a demon and its temptation to the curb, you always need to fill your space with God. In other words:
Pride is a sin, but there is always a way of escape from sin.
We don't have to pick up any sins or even sinful thoughts. The enemy will tempt us with them, but those temptations are only that: thoughts being offered to us to see if we will run with them.
However, when you are tempted, you can always say no to the temptation. God's grace empowers you to live a holy life without sin. 🙂 Sin is a choice, but you don't have to make that choice.
I want to live without sinning. So …
I have continued to ask God to make me humble all of these years.
When He showed me how terrible pride was, He convicted me about it so much that I now stand in horror of pride (and sin in general, actually). But, we can never assume we are completely free from pride, right? (To assume that we have no pride would be prideful!) 🙂
Therefore, I have continued praying nearly every day: "Lord, make me humble." And although I know I'm not exactly like Jesus yet–and therefore, I'm not where I want to be–I thank God that at least I'm not where I used to be.
God is working in my heart, and He has been for 20 years. He will continue His process in me until the trumpet blows and Jesus comes back, just like He will in you.
I believe we all need to ask God to make us humble every day. Then, we must do everything we can to become more like Jesus in our humility.
Therefore, I appeal to you directly:
Friend, with God's help, you can conquer the sin of pride and become humble. Pride goes before destruction; why would you willfully put yourself in line for destruction?
Please, I beg you: Embrace humility today!
To inspire you to take on this challenge of eschewing pride and embracing humility, there are a few things you need to be aware of about pride:
1. First, pride reeks.
Pride is very much a sin–and it's a deadly sin. In fact, it is the sin that forced God to cast Lucifer out of Heaven. Lucifer, who then became Satan, exalted himself in his own imagination–and then wanted to exalt himself in position above God as well.
Yes, Lucifer actually said he would be like the Most High. (Of course, his claims and aspirations were impossible; but Lucifer still aspired to exalt himself above God.) Isaiah 14:12-15 tells us all about this:
"'How you are fallen from heaven, O Lucifer, son of the morning! How you are cut down to the ground, you who weakened the nations!

For you have said in your heart:

'I will ascend into heaven, I will exalt my throne above the stars of God; I will also sit on the mount of the congregation on the farthest sides of the north; I will ascend above the heights of the clouds, I will be like the Most High.'

Yet you shall be brought down to Sheol, to the lowest depths of the Pit'" (Isaiah 14:12-15 NKJV).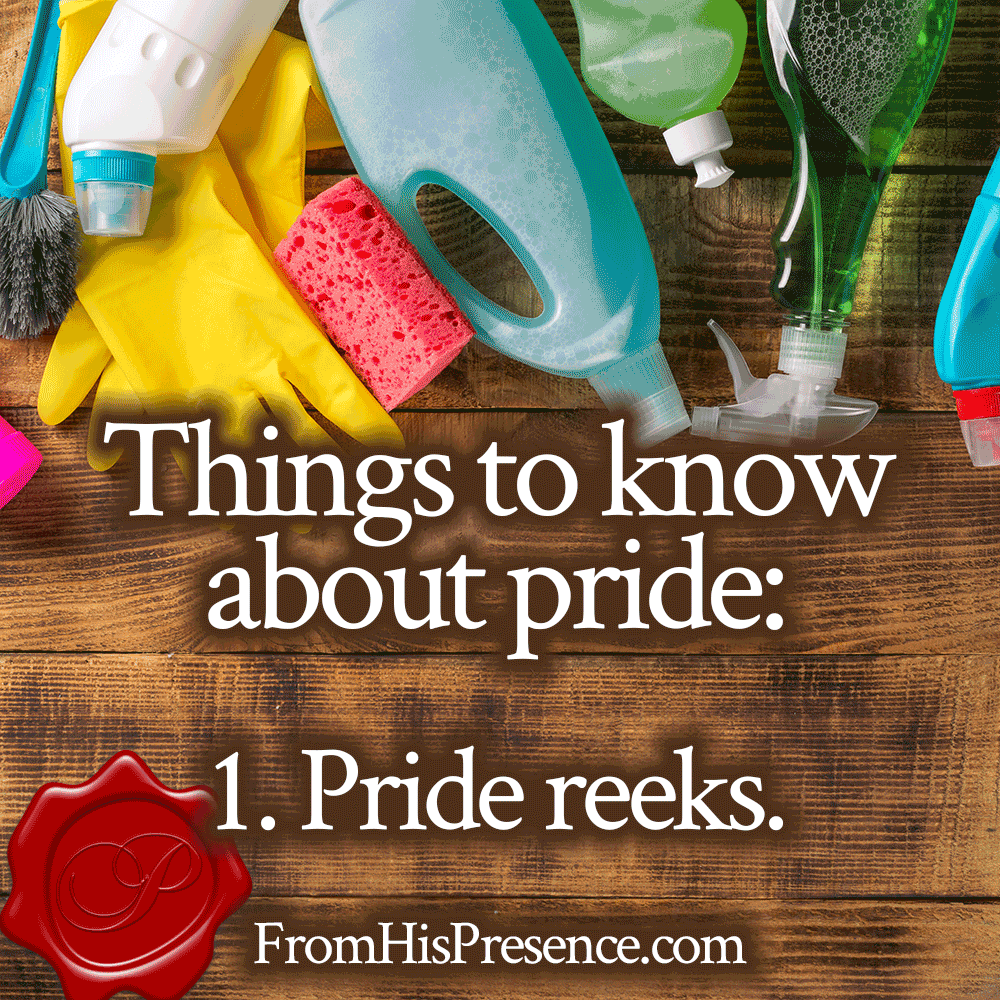 Pride is sin, and it's a serious sin. It is nothing to toy around with. Pride, which is sin, will hurt you–and hurt you badly. Pride goes before destruction, and nobody wants destruction.
2. Yes, the Bible tells us explicitly that pride goes before destruction.
Proverbs 16:18 says this:
"Pride goes before destruction, and a haughty spirit before a fall" (Proverbs 16:18 NKJV).
And then look at these other verses that reiterate the same message:
"A man's pride will bring him low, but the humble in spirit will retain honor" (Proverbs 29:23 NKJV).

"But He gives more grace. Therefore He says: 'God resists the proud, but gives grace to the humble'" (James 4:6 NKJV).

"When pride comes, then comes shame; but with the humble is wisdom" (Proverbs 11:2 NKJV).

"The fear of the Lord is to hate evil; pride and arrogance and the evil way and the perverse mouth I hate" (Proverbs 8:13 NKJV).

"Be of the same mind toward one another. Do not set your mind on high things, but associate with the humble. Do not be wise in your own opinion" (Romans 12:16).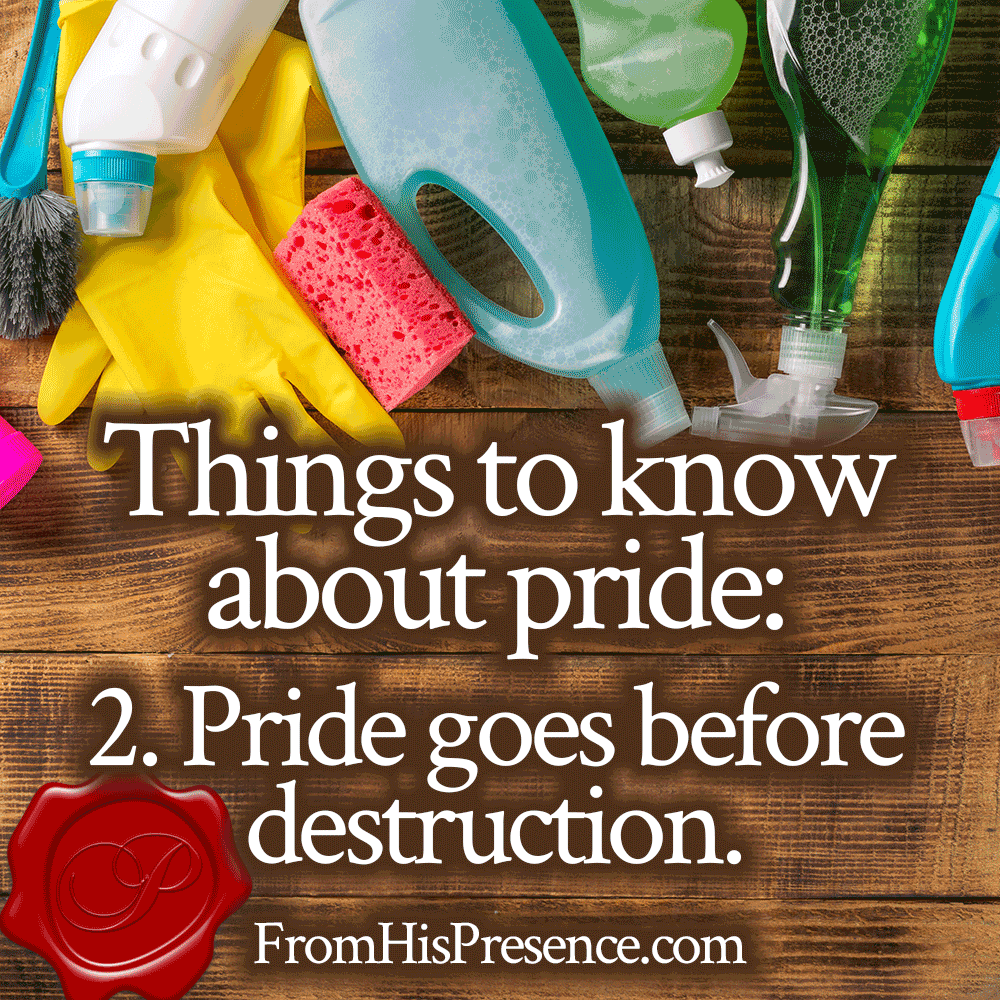 If you don't want to suffer destruction, shame, humiliation, and embarrassment in your life, then humble yourself. It's the only way to avoid major blunders and embarrassments.
3. Friend, you need to be aware that God will allow you to be humbled in a bad way if you will not humble yourself.
God will not put up with pride on a long-term basis, especially not in His beloved children. He will correct you and discipline you. He will start by giving you the gentle promptings of His Spirit through:
But, if you will not listen to the convicting voice of His sweet Spirit …
If you will not read His Word and humble yourself before it …
And if you will not listen to the people He places in your life to intervene before disaster hits …
Then God will allow you to suffer destruction, because YOU are choosing destruction when you choose pride.
Because pride goes before destruction.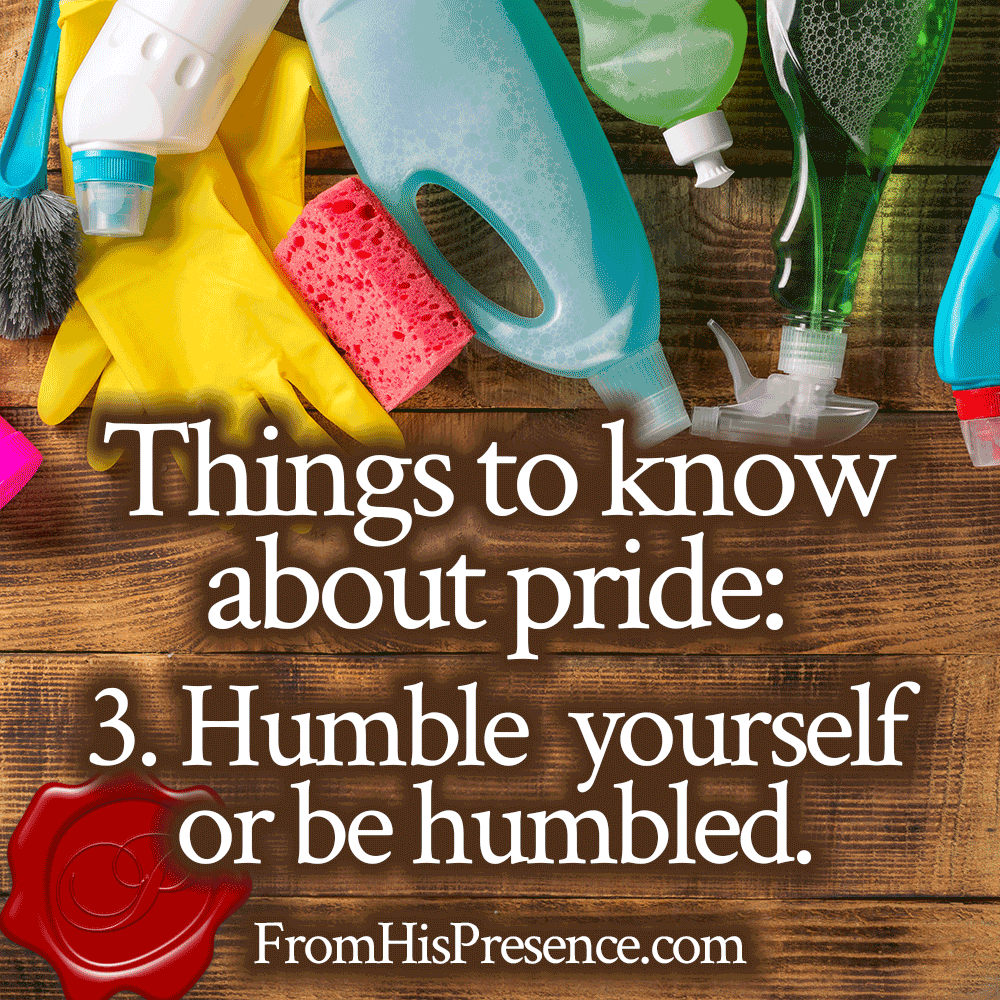 It's not that God wants you to experience destruction. He's a good, good Father; He wants you to listen and obey Him! But when you will not, He honors your free will and allows you to experience the natural consequences of walking in sin.
And friend, those consequences are never good:
They are always destructive.
They are usually embarrassing.
They are always humbling.
4. The opposite of pride is humility, so REPLACE pride with humility.
If you are caught in the sin of pride, my friend, the solution is repentance–which means to change your mind and go the other way–and to embrace humility.
Look at what the Bible says in Philippians 2:3-8:
"Let nothing be done through selfish ambition or conceit, but in lowliness of mind let each esteem others better than himself. Let each of you look out not only for his own interests, but also for the interests of others.

Let this mind be in you which was also in Christ Jesus, who, being in the form of God, did not consider it robbery to be equal with God, but made Himself of no reputation, taking the form of a bondservant, and coming in the likeness of men. 

And being found in appearance as a man, He humbled Himself and became obedient to the point of death, even the death of the cross" (Philippians 2:3-8 NKJV).
Beloved, if you have been proud, won't you humble yourself today?
Jesus was humble, even though He didn't have to be. He is God; He alone sits at the governmental center of the universe. And yet this Jesus, who had every right to be exalted at every point and never humbled, chose humility.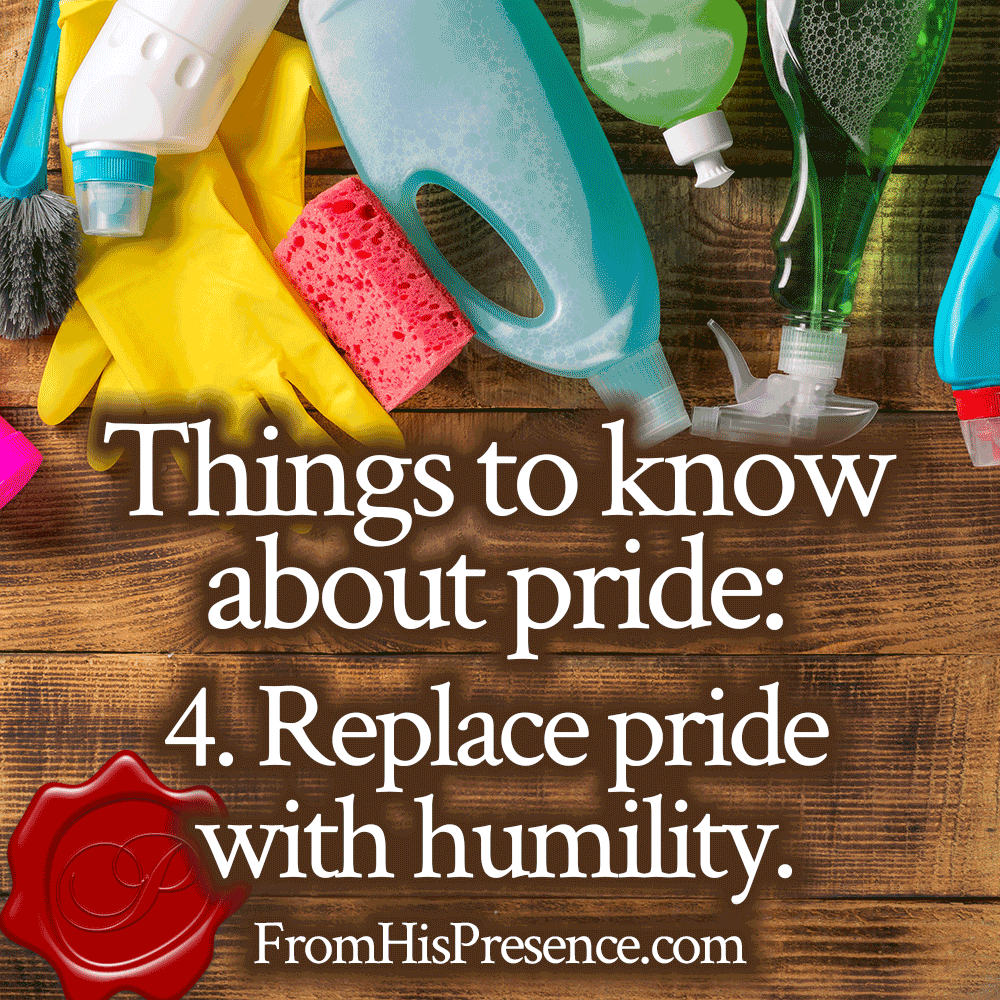 Yes, Jesus chose to humble Himself. He chose to walk in holiness–which requires humility–instead of aligning Himself with the devil and exalting Himself.
Jesus humbled Himself, and He let Father God exalt Him in His own good time.
God will do the same for you. If you will humble yourself, God will lift you up in the right time and the right way. He will promote you when the right time comes. He promises exactly that in 1 Peter 5:6:
"Therefore humble yourselves under the mighty hand of God, that He may exalt you in due time" (1 Peter 5:6 NKJV).
But friend, the exalting only comes after the humbling. And the humbling IS going to happen, but it's a lot more enjoyable (and less embarrassing) if you choose to humble yourself and embrace humility …
… instead of experiencing destruction …
… because pride goes before destruction. Every time.
O, my beloved friend, you will be humbled whether you want to be humbled or not.
Will you not listen to the still, small voice of Holy Spirit as He whispers to you today? Won't you please humble yourself and flee from pride?
Precious child of God, won't you seek and pursue the sweet savor of humility in your life, so that God doesn't have to leave you to your own devices and allow your life (or any part of it) to be destroyed?
Wouldn't you rather choose to walk in humility than to be publicly embarrassed when you fall?
Wouldn't you prefer to become a humble, grateful, thankful person who walks in grace and love–rather than experiencing the destruction that WILL come if you exalt yourself (even in your own mind)?
O beloved, pride goes before destruction. Are you in the danger zone? Are you walking in this sin of pride today?
Did the Lord put this article before your eyes as a final attempt at intervention today? If you are reading this and walking in pride, my friend, I guarantee you that God is trying to save you from destruction. THIS is His intervention; won't you repent for your pride and embrace humility today?
If the Lord is convicting your heart right now, pray this prayer to repent for embracing the sin of pride:
"Dear Heavenly Father, thank You for putting this message from Your Word before my eyes today.
I confess that I have been so proud. I have proudly proclaimed my superiority to all those around me:
I have thought proudly about how great I am.
I have told other people how great I am.
I have boasted and bragged.
I have spoken many times that I am better than others at this, that, or the other thing.
I have preferred my own way, instead of walking in humility and submission to You.
I have rebelled against You and Your Word by embracing pride and prideful thoughts. I have eagerly and gladly exalted myself, and have not even been ashamed of my sin!
Father God, please forgive me for my sins. Forgive me for walking in this sin of pride.
I repent for this sin of pride, Father. I repent for exalting myself. I repent for bragging about myself. I repent for my pride and arrogance. I'm so sorry, Abba Father.
Dear Lord Jesus, I choose right now to reject pride and everything associated with it. And I thank You for Your Word in 1 John 1:9: "If we confess our sins, He is faithful and just to forgive us our sins, and to cleanse us from all unrighteousness" (1 John 1:9 NKJV). I have confessed my sin of pride, and I have asked for Your forgiveness. I thank You for forgiving me.
Heavenly Father, please fill me with Your Holy Spirit where pride was:
Fill every part of me with Yourself and Your sweet Spirit, Lord.
Make me humble.
Teach me to be humble like You, Jesus, are humble.
Teach me to be meek and submissive to You in everything.
Let this mind be in me which was also in Christ Jesus.
Help me to humble myself under Your mighty hand; and, in due time, You will exalt me.
Father, please convict me and discipline me about pride from this day forward:
If I am even tempted to think or embrace any prideful thoughts, help me to take those thoughts captive to the obedience of Christ.
If I am tempted to speak any prideful, boastful, or bragging words, set a watch on my mouth. Let my tongue cleave to the roof of my mouth, and let me not even be able to get prideful words out anymore.
Teach me to embrace a heart attitude of humility.
Make all my actions humble, Lord; and purify me from any actions that aren't humble.
I plead the blood of Jesus over my mind; over my sins; and over my level of humility. Let the humility and holiness which Jesus died for me to have be fully manifest in me today, Abba, in Jesus' name.
Your Word says that pride goes before destruction, Father God. Please make me humble and spare me from destruction, I ask, in Jesus' mighty name.
Thank You for hearing and answering my prayer today. Thank You for forgiving my sins. Help me to never again be proud or boastful, Father. Make me humble like Jesus was humble.
Thank You, Abba Father. I give You all the praise. In Jesus' holy and precious name I pray, amen and amen."
Beloved, is Holy Spirit speaking to you about repenting for the sin of pride today? Do you need to be humble like Jesus is humble? If so, leave a comment below and publicly confess your dependence on God for the real heart change and humility that He desires!