Dripping, Day 6: Jesus Who Restores Your Life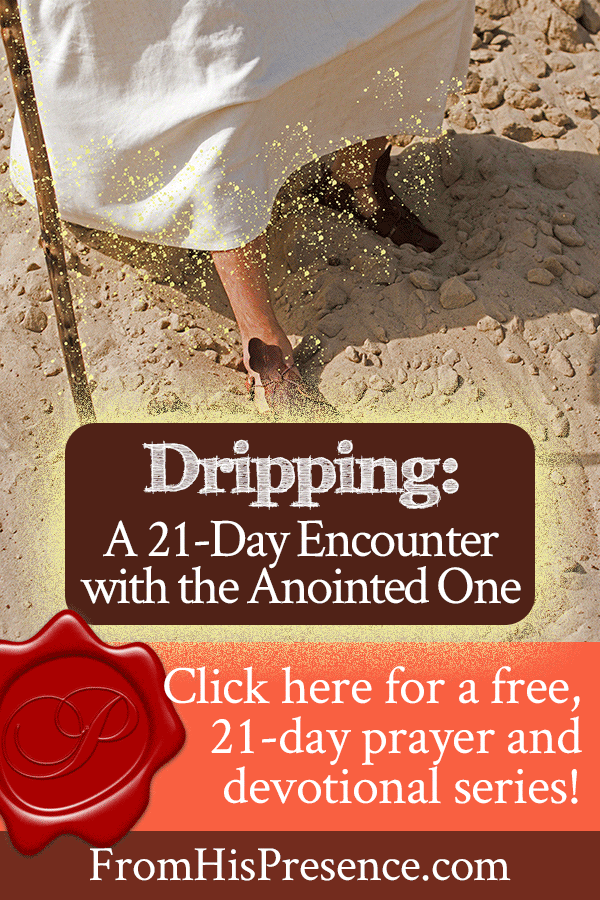 Welcome to Dripping: A 21-Day Encounter with the Anointed One!
The purpose of this devotional series is to help you encounter Jesus Christ face-to-face by invoking your holy imagination. Each day of this series, we will walk through three short exercises–see, read, and pray–that will help us draw closer to the Man, Jesus Christ Himself.
Here's Day 6:
Today, we will read Isaiah 61:1-2:
"The Spirit of the Lord God is upon Me, because the Lord has anointed Me to preach good tidings to the poor; He has sent Me to heal the brokenhearted, to proclaim liberty to the captives, and the opening of the prison to those who are bound; to proclaim the acceptable year of the Lord, and the day of vengeance of our God; to comfort all who mourn" (Isaiah 61:1-2).
See:
You mingle with the crowd as Jesus climbs the hill toward Nain. It's sunset, and the warmth of the desert is giving way to the cool breeze of the night. You wrap your cloak tighter around you to ward off the chill.
As you pass the town well, you see Jesus pause. He's talking with two women—and as if that weren't strange enough, these women are a sight.
The women are huddling together near the well, and they are crying. They are touching one another's shoulders, obviously comforting one another—and clearly both needing comfort themselves.
You shoulder quietly past the crowd, eager and determined to hear what Jesus is saying to these women.
As you approach, you see Him comfort the first woman. He wraps her in a bear hug as she collapses against the warmth of His chest. He covers her head with His hands, letting her cry. But then, quietly, He speaks. "Do not be afraid, daughter. Our Father in Heaven will provide."
The woman's weeping calms and Jesus helps her stand on her own. Jesus continues speaking to her:
"Even now, your husband counts the coins from the work he did three years ago for the Roman centurion. The debt has been paid and your need provided for. Go home and see, for our Father in Heaven does not forget the petition of a righteous laborer."
Reassuringly, Jesus pats her arm while turning to the second woman.
You admire the grace with which He does this, not making the first woman feel forgotten at all—but comforting her while adding the next to His attention.
The second woman is weeping also, her face contorted with agony. This woman is getting up in years, probably a grandmother several times over. You hear her broken sobs as she pours out her heartbreak to Jesus:
"It's my daughter Mary, Lord. She lives in Magdala, but she's not living a good life. She is doing things that are abominations to Yahweh—and she won't listen to me. I cannot help her."
Jesus places His hands on the weeping matriarch's arms, looking deeply into her eyes.
He smiles, even though you see no humor in this situation. "Is your name Abigail, daughter? Abigail, wife of Simon the potter?" He asks.
The woman nods a confused yes. How Jesus knows her, she does not know—and neither do you. But Jesus ignores her confusion and continues. "Abigail, My daughter, does the Scripture not say that 'Before you call, I will answer'"?
She nods her head, still confused; but she dares to look up, straight into Rabbi Jesus' eyes.
Jesus continues:
"I met your Mary yesterday, My daughter. She has been set free of the demons that were binding her. She has been cleansed and has returned to Yahweh. I saw her Myself and made certain she would be free. Yahweh has heard your prayer, for Mary will sin no more, O faithful mother in Israel."
Abigail's wrinkled cheeks dimple as her face forms an unfamiliar smile. Sobbing and laughing at the same time, she asks Jesus, "You mean it? She is changed? She is free, healed?"
Jesus smiles back at her, nodding His head.
He doesn't speak; His smile is too big—but His eyes glisten with tears too. Abigail stares at Him in shock, then finally throws her arms around Him. "Thank You, Master. Thank You, thank You, thank You."
Jesus smiles bigger, if that were even possible, and wraps His arms around her too.
They embrace, the elderly matriarch and the youthful Rabbi, until finally Jesus helps her stand on her own too. He has something to say to her still.
"Abigail, My daughter, our Father heard your cry. You did not lose heart, and your reward will be great. When I come back through here at this time next year, your Mary will be married and have a child. You will have joy in your old age, and everything you thought stolen will be restored better than it ever was before."
At that, Abigail clutches her hand over her mouth, joy and amazement exuding from her face.
Jesus turns back to the city, gesturing to the women to precede Him up the hill toward the gates.
The crowd begins to move again behind them. Before you all reach the gates, however, both of the huge wooden doors open wide and you hear the sound of wailing. It's a funeral procession, coming out of the city.
Jesus stands aside to allow the mourners to pass Him, but He holds up His hand when He sees the funeral bier.
You are still close enough to see, and you can see a very elderly woman behind the bier. She is at least twenty years older than even Abigail. She is wearing worn widow's rags that indicate she has been a widow for quite some time.
She looks like she can barely hold herself up; younger women are gathered around her, supporting her by the arms and hands. She is weeping uncontrollably; she looks terrible.
Jesus takes one look at the situation as the procession stops before His upraised hand.
The crowd behind you quiets, not sure what they are about to witness—but not wanting to miss a thing. The only sound you hear is the wailing and sobbing of the widow behind the bier.
Jesus looks down at the bier, still being held up by four pallbearers at the corners. And He speaks one word in the direction of the body:
"Arise."
The body stirs and the crowd gasps. The body is wrapped in graveclothes, but the arms inside the cloths begin to stretch and strain against their bindings.
The pallbearers drop the bier to the ground in shock, and the strong voice of a young man cries out in pain as the bier drops to the ground. The body, now a living person, is still fighting against the graveclothes.
The knots and fibers give way as people rush to help. They unwind the cloths from his face, his arms, his torso, his feet. And suddenly, the young man is fully loosed—and vibrant. His face glows with health; his arms bulge with strength.
He looks up at Jesus, stunned but joyful. Jesus, smiling, reaches His hand down to the funeral bier and pulls him up.
In the chaos of the resurrection, everyone has forgotten about the mother.
Now, however, all eyes suddenly turn to her. The weeping and wailing has stopped, but the women are still holding her up—eve more firmly than before.
Jesus, one hand still engulfing the young man's hand, reaches toward the woman with His other hand. The women around her push her, stumbling, toward Him.
You watch as Jesus catches her with His hand and pulls her close, placing her son's hand within her own. He looks at her kindly, saying, "The Kingdom of God is upon you. It is the year of restoration, the year of the Lord."
The woman falls to the ground onto her son's feet, but her attention is split between her son and the Rabbi who saved him.
She kisses her son's feet over and over while crying out, "Thank You, Yahweh. Thank You, Lord. Thank You! Blessed be our God Most High!"
Finally, she stops, still kneeling in the dirt at her son's feet. But her son is no longer in her vision as she lifts her face and her arms to Heaven. "Praise be to You, O Lord, God of our Father Israel," she cries out, "from everlasting to everlasting! Yours, O Lord, is the Kingdom!"
And Jesus, the great God and Restorer of all—smiling a private smile that only He and His Father truly understand—slips away to His next errand while the crowd, the boy, two elderly friends who received His comfort, and a joyful mother continue to worship and shout praises to Yahweh.

Remember this:
Beloved, everywhere Jesus goes, He restores:
You won't receive anything from Jesus if you don't believe Him, though.
It's simply a natural and spiritual law: you must believe in order to receive. James 1:6-8 says:
"But let him ask in faith, with no doubting, for he who doubts is like a wave of the sea driven and tossed by the wind. For let not that man suppose that he will receive anything from the Lord; he is a double-minded man, unstable in all his ways."
It's all about your faith in God, and in who God is.
If you will believe Him—believing that He is who He says He is—then you can and will receive His benefits and blessings … including restoration.
But if you refuse to believe Him …
… choosing instead to embrace doubt, unbelief, and self-pity …
… staring only at yourself instead of believing HIM …
… then you will receive nothing from the Lord.
Nothing.
It's up to you.
God wants to heal and restore your life.
It's His heart for you to right every wrong that has ever been done to you; to restore every loss; to work everything out for your good. But will you let Him do that? Will you trust Him, keep your eyes on Him, and believe Him—no matter what?
If you will, you'll be glad you did. But if you refuse Him, you are refusing every chance you have to see dead dreams raised, abundant healing and restoration, and every other good thing manifested in your life.
I pray you'll choose to believe Him today, standing firm in faith as He heals and restores your life–no matter how long it takes.
Pray:
"Abba Father, Lord Jesus, I know Your heart is to heal and restore my life. Your Word says this. And Jesus, You manifested healing and restoration everywhere You went—as long as people believed.
Father, I want to be a believing believer. I confess my doubt, unbelief, and self-pity to You. I confess these things as sin, Father, and I repent. Please forgive me and fill me with Your Holy Spirit where those things were.
Father, I need Your healing touch.
I need Your restoration. I need You to answer my prayers. But Father, most of all, I just need You.
Father, I choose to believe You, love You, and seek You first. I choose to trust myself to You. I place myself in Your healing and restoring hands, Abba Father, and I ask You to redeem, heal, and restore my life.
Thank You, Father. In Jesus' name I pray, amen."
Related: Read this short series about how much God loves you, and how to give your life to Jesus and receive forgiveness for all of your sins and a new life in Christ.
Did you enter into this scene with me using your own holy imagination? What did you see? How is Holy Spirit speaking into your heart right now? Leave a comment below!