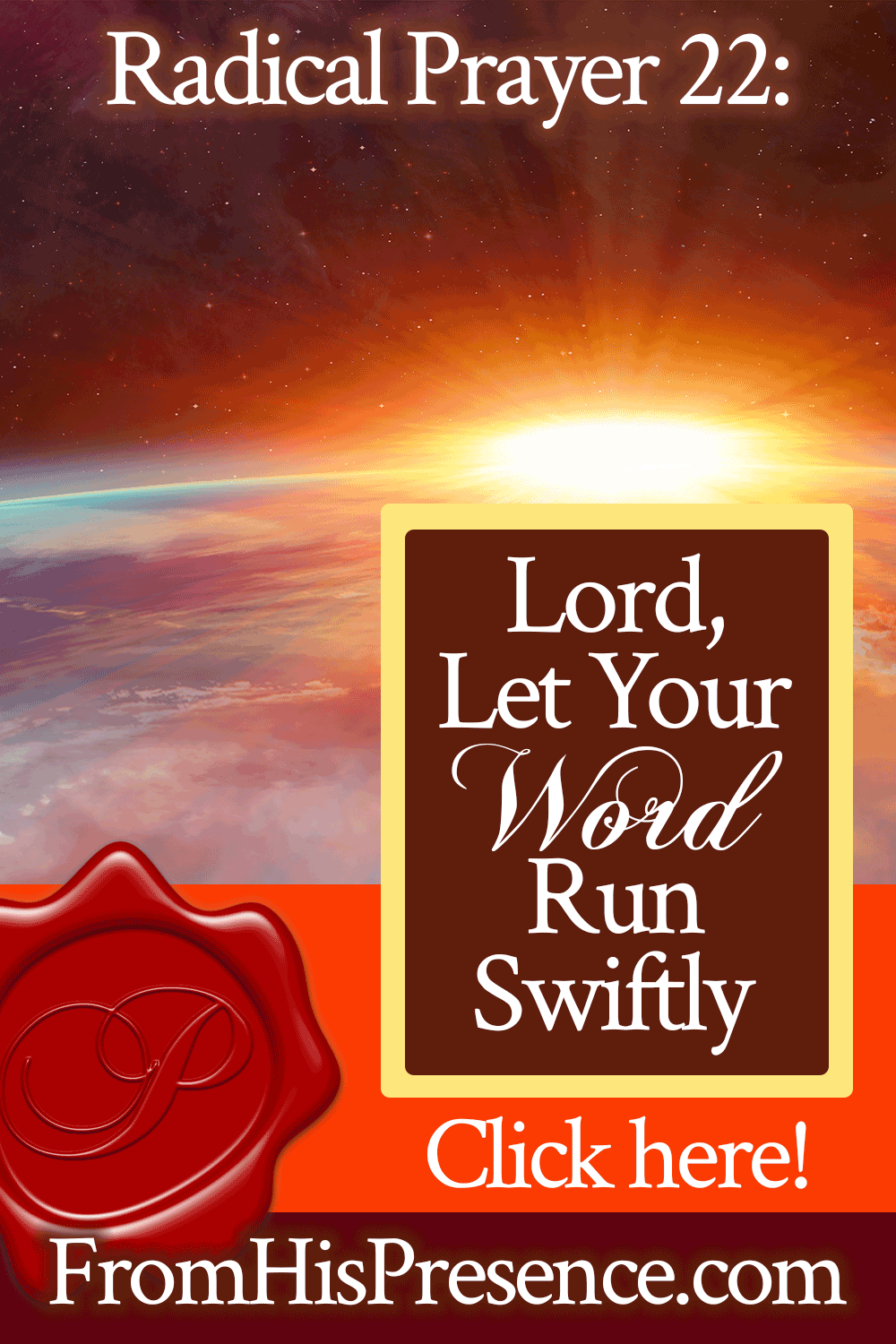 Beloved friend, do you want God's Word to run swiftly in your life? And when I ask that, I mean:
If so, then pray today's radical prayer with me:
"Lord, let Your Word run swiftly through my heart! Let Your Word run swiftly and accomplish its purpose on the earth!"
The verse we are praying today is found in 2 Thessalonians 3:1, which says:
"Finally, brethren, pray for us, that the word of the Lord may run swiftly and be glorified, just as it is with you" (2 Thesslonians 3:1 NKJV).
In this verse, Paul, Silvanus, and Timothy were urging the believers in Thessalonica to pray for them, "that the word of the Lord may run swiftly and be glorified." How does this apply to you? Let's take a look.
Related: Read the whole list of other Radical Prayers here!
What does it mean to let the Word run swiftly?
To really "get" the power of this, you first have to understand that the Word of God carries its own innate power. John 1:1-5 tells us that the Word of God is actually Jesus Christ Himself. Check out these verses:
"In the beginning was the Word, and the Word was with God, and the Word was God. He was in the beginning with God. All things were made through Him, and without Him nothing was made that was made.

In Him was life, and the life was the light of men. And the light shines in the darkness, and the darkness did not comprehend it" (John 1:1-5 NKJV).
And then John 1:14 says this:
"And the Word became flesh and dwelt among us, and we beheld His glory, the glory as of the only begotten of the Father, full of grace and truth" (John 1:14 NKJV).
These verses tell us that, somehow, God's written Word and Jesus are the same thing.
Jesus is the Incarnation, or physical embodiment, of God's Word. Before He came to earth in the womb of the Virgin Mary, He was known as "The Word." The pre-incarnate Christ was the Person known as The Word of God; and the written words of Scripture are, somehow, the written version of Jesus Christ Himself.
If you think about that very much (and you should), it will blow your proverbial mind.
Well, when the Word of God runs swiftly, it means two things:
That it runs into your heart and forever changes the landscape of your heart, your thought patterns, your habits, words, actions, desires, etc.; and
That the Word of God runs through the earth, accomplishing the purpose for which God sent it.
As it says in Isaiah 55:10-11:
"For as the rain comes down, and the snow from heaven, and do not return there, but water the earth, and make it bring forth and bud, that it may give seed to the sower and bread to the eater, so shall My word be that goes forth from My mouth; it shall not return to Me void, but it shall accomplish what I please, and it shall prosper in the thing for which I sent it" (Isaiah 55:10-11).
When God speaks a word, that word spoken out of the mouth of God carries a purpose and an assignment on the earth.
The innate power of God is contained in His Word; His Word is creative. His Spirit is also one with His Word, for His Word was spoken by His breath and His breath is literally His Spirit.
So the Word of God and the Spirit of God are One, just as Jesus stated openly that He and the Holy Spirit are two of the exact same kind.
And God's written Word, the Bible, contains the exact same power when you speak it out of your own mouth as it contained when God the Holy Spirit breathed it out into the ears of His scribes who wrote down His dictated words the first time, giving us all 66 books of the Bible.
God's Word contains God's power.
If you ask God to let His Word run swiftly on the earth and in your life, you are asking Him to release His Word in you and through you. You are asking Him to change both you and all your circumstances for the better. You are asking Him to align you completely with His perfect will for your life through the changing and transformative power of His Word.
Do you want this? Do you want God's Word to run swiftly in you and on your behalf on the earth?
If so, pray this simple prayer with me today:
"Dear Heavenly Father, I come to You in Jesus' name.
Heavenly Father, I love You so much. Thank You for Your Holy Spirit, who is helping me pray right now. Thank You for taking care of me and blessing me, and thank You for allowing me to come boldly before Your throne of grace, where I may obtain mercy, and find grace to help in time of need.
Heavenly Father God, I bow before You today.
Father, I feel like I have nothing to give right now–but I know You, and You are all I need. I have no strength of my own. However, Jesus is the Vine and I am only a branch; all I need to do is let Your sap (Your Spirit, Your grace, and Your strength) flow through me. When I do that, I know that You will accomplish what You need to do in my life.
I praise You for that, Father. Thank You.
Father God, I know You have a lot for me to do in this life. I cannot do it myself, though, and I know You don't expect me to. Nevertheless, I am hungry to see and do everything You have for me on this earth. I desire to see and experience every single thing Your Word promises me.
Father God, first and foremost, I want to be like You.
Father, as I read Your Word, I read how beautiful You are. I see You in my mind's eye, and I see Your Son Jesus, high and lifted up.
Father, I desperately desire to be like Jesus. I want everything about my life to change; I want to conform to the image of Christ. And although I do not have the power to change myself, I can gaze at You and YOU, O Lord, can change me.
So Father, I ask in Jesus' name right now that You would change my heart. Search me, O God, and know my heart. Try me and know my thoughts. See if there be any wicked way in me; and if there is, GET IT OUT! Lead me in Your way everlasting, Father God.
Father, I pray today that Your Word would run swiftly into my heart and accomplish Your purposes.
Every day, as I read Your Word, hear Your Word, receive Your Word, and meditate on Your Word …
I ask today in Jesus' name that You would sear Your Word into my heart like a cattle brand.
Abba Father, let there be smoke as Your Word brands me and marks me.
Let Your Word forever change the very landscape of my heart.
Let me be transformed into Your image through every encounter with Your Word.
Lord God, I pray also that You would cause Your Word to run swiftly over all the earth and work on my behalf.
As I speak Your Word out loud from my mouth, let Your Word take root. Let Your Word go forth like a rushing, prevailing army, bringing forth the things for which You sent that Word.
Specifically, I pray that Your Word would:
Birth things in my life and on the earth;
Bring forth every blessing into manifestation on the earth and in my life;
Create opportunities, relationships, and favor that I never had before–all according to Your will; and
That Your Word would create a holy flow of provision for all these things to happen and manifest in my life without ceasing, without restriction, and without delay.
O Father, I need Your divine intervention at this point in my life.
Father, I have always needed You, but I didn't always know it. Now, however, Father, You have brought me to a saving knowledge of Your Son Jesus Christ. You have changed my heart and vision; you have transformed me from glory to glory, faith to faith, and strength to strength. Thank You for that, Abba.
But Father, as You have grown my life, You have also given me a vision that is too big for me to handle.
I can't do the things You have put into my heart by my own fleshly strength, Abba. I can't do them at all without You. I need You to intervene; I cannot even carry the weight of the burden and vision You have ordained for me–and I know things are only beginning.
All I can do is believe You, Father. All I can do is pray and look to You. And I can speak Your Word and agree with You that YOU will do what You have promised.
So do it, Father. Let Your Word run swiftly over the whole earth and in my heart, and do what You have promised.
Do for me those things that eye has not seen and ear has not heard. Do those things which have not even entered into the heart of man. Do the things in me, for me, and through my life that have never before been seen on the face of the whole earth!
I'm calling unto You, Father, and I'm asking You to answer me and show me GREAT and MIGHTY things that I do not know.
Father, as I have seeded the atmosphere by speaking Your Word out loud:
I pray that right now You would show me the manifestation of Your Word.
I pray that right now You would cut through the warfare and witchcraft unloosed by the powers of darkness against me, and against Your plans for my life, family, ministry, finances, and health.
I pray that RIGHT NOW You would annihilate and utterly defeat the powers of darkness unloosed against me, and that Your Spirit would raise up a standard against them.
I ask in Jesus' mighty name that You would prove Yourself to be the Great and Holy God who answers prayers, and who REWARDS those who diligently seek You.
I ask that You would flaunt Your answers to my faith around the whole world, openly demonstrating what You will do for those who believe in You and in Your Word.
I ask in Jesus' name that Your great and mighty works, which You have finished for me before the foundation of the world, would be manifest and brought to light NOW.
Holy Abba Father, You are good, and Your mercies endure forever.
I cannot handle the weight of the things You have entrusted to Me. I need Your Word to run swiftly both in my heart and in all corners of the world, bringing to me the manifestation of the things You have spoken.
Do it, Father God, please; I ask in Jesus' name. And while You do, glorify Your own name in me–and let it all be for the sake of Your Son Jesus Christ, and for Your Kingdom.
Have me for Yourself, Lord. I give myself, yet again, wholly to You.
Use me as an instrument and a vessel for Your glory, and let Your Word be magnified over all the earth through my life. Thank You, Abba Father. Thank You, Lord Jesus. Thank You, Holy Spirit.
It's in Jesus' name I pray. Amen."
Beloved friend, do you need Jesus' help today?
If so, be sure to seed the atmosphere by first hiding God's Word in your heart, and then by speaking it out of your mouth. God's Word is true, and it will run swiftly to accomplish God's purposes in your life as you study, pray, speak, and believe.
Did you pray this prayer with me today? If so, please leave a comment below and let me know what Holy Spirit is saying to you on this topic!