10 Prayers for Radical Blessing
Are you hungry to experience the radical blessings that Father God promises you in His Word? If so, begin praying these 10 Scriptural prayers for radical blessing–and expect the Lord to move powerfully in your life!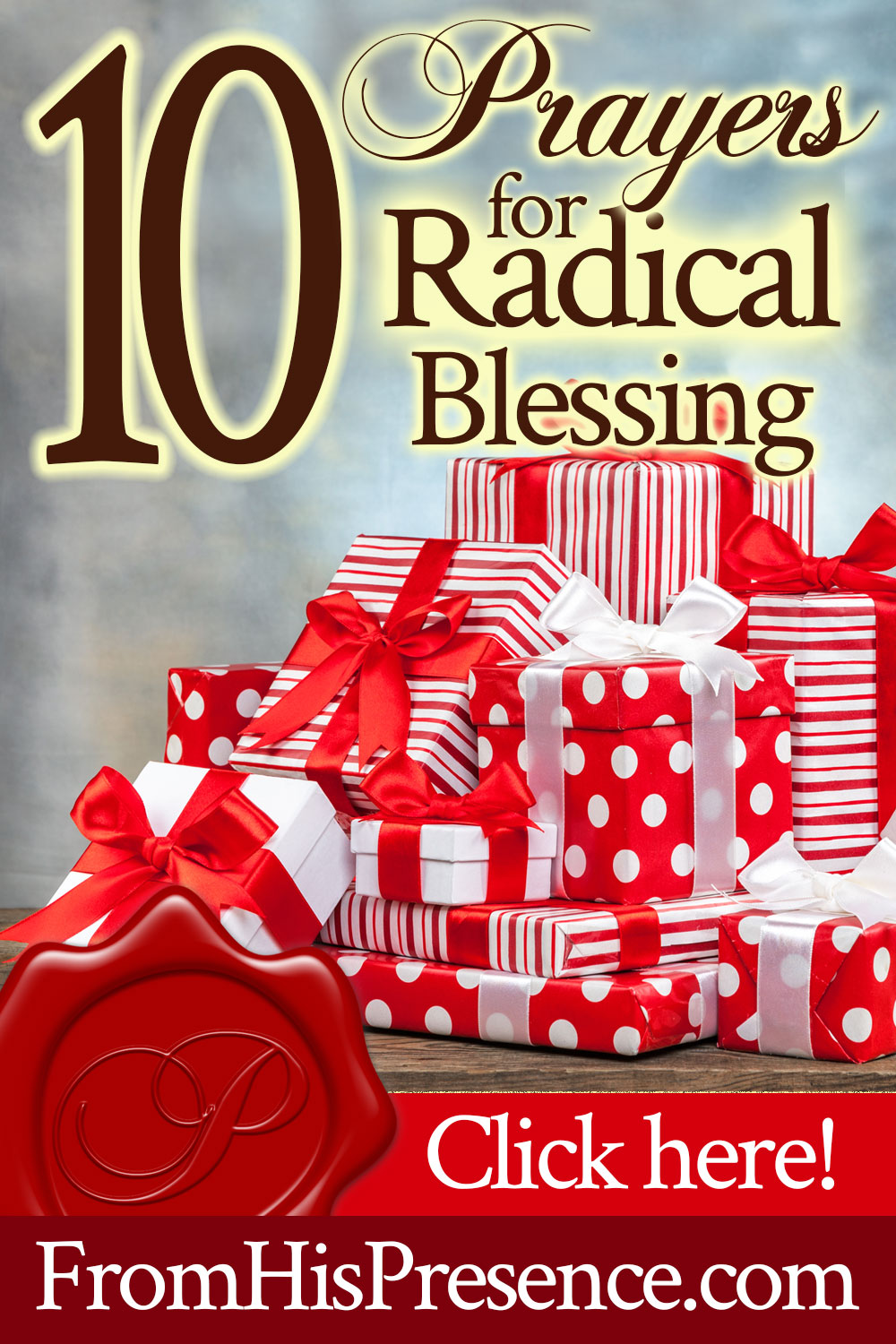 Before we get to the 10 prayers for radical blessing, know this:
Everything God says in His Word is true–and all of His promises are for you. Second Timothy 3:16-17 reassures us of this when it says:
"All Scripture is given by inspiration of God, and is profitable for doctrine, for reproof, for correction, for instruction in righteousness, that the man of God may be complete, thoroughly equipped for every good work" (2 Timothy 3:16-17 NKJV).
So YES:
God means everything He says, and His Word works.
As it says in Isaiah 55:10-11:
"For as the rain comes down, and the snow from heaven, and do not return there, but water the earth, and make it bring forth and bud, that it may give seed to the sower and bread to the eater, so shall My word be that goes forth from My mouth; it shall not return to Me void, but it shall accomplish what I please, and it shall prosper in the thing for which I sent it" (Isaiah 55:10-11 NKJV).
So I wanted to share 10 of my favorite ways to pray today.
These prayers are just snapshots of one-sentence prayers you could (and should!) pray from the Word. For each one, however, if I have an expanded article about that prayer, I have linked to it below so you can dig deeper into each promise.
Psalm 91:15 says, "He shall call upon Me, and I will answer him; I will be with him in trouble; I will deliver him and honor him."
Psalm 91 contains promise after promise for safety, protection, immunity to the enemy's attack, and radical blessing. This chapter is one that you should read, pray, and confess often! It really does promise TOTAL IMMUNITY from anything bad happening in your life when you love Jesus. Who could say no to that?
But in this chapter, Psalm 91:15 is a particular favorite of mine. Why? Because people who are in trouble—even through no fault of their own—often experience shame and dishonor.
Related: Removing Shame, Restoring Honor
God never shames or dishonors His people.
If you've been shamed or dishonored, but you've given your heart to Jesus Christ, know TODAY that the shame and dishonor you received was NOT from God (even if people told you it was). The Bible says that they who wait on the Lord shall NOT be put to shame (Psalm 25:3).
Therefore, if you're in any kind of trouble today and you need help, know this:
God will heal you from every bit of havoc the enemy tries to wreak in your life. And after He does, He'll elevate you higher than ever with His honor.
So pray this first prayer for radical blessing back to the Lord today, and every day going forward!
God IS the Creator and He has made you in His image. That means that you are creative, whether you feel like it or not!
And believe it or not, God LOVES to create through you.
He wants to flow through you and your life with His creative power, creative ideas, and with His unction to create by His Spirit. As the original Creator, God is full of bright ideas—and He is yearning to share them with you right now!
In Proverbs 8:12, He tells us: "I wisdom dwell with prudence, and find out knowledge of witty inventions." Since God wants us to have wisdom, it follows that He wants us to experience all the benefits of that wisdom—including creative ideas and witty inventions.
You never know; you could become the creator of some new invention that will change the world.
Many, many inventions have been received from the Lord in dreams and visions alone, not even counting the plain old ideas He has given inventors; maybe YOU are next in line!
Even if you don't think of yourself as an inventor, however, know that God wants to give you amazing ideas and solutions. And those ideas and solutions are truly "inventions" of a different sort.
Therefore, since wisdom is from the Lord, go ahead and ask Him today for all the benefits of that wisdom—including wild ideas and witty inventions!
In the Bible, the tribe of Issachar had a special gift from the Lord: they understood the times and seasons, and they knew what Israel ought to do at any given time.
First Chronicles 12:32 says:
"of the sons of Issachar who had understanding of the times, to know what Israel ought to do, their chiefs were two hundred; and all their brethren were at their command."
Can you imagine what would happen if all of God's people always knew the right thing to do—and if the world followed God's people because of their wisdom? What an impact we could have for the Kingdom!
Well, it's not a pipe dream. God will give YOU the anointing of the tribe of Issachar right now.
God is no respecter of persons. What He'll do for one person, He'll do for another. What He has done for one person, He will do for you. The Bible says in Psalm 84:11 that He will not deny you ANY good thing:
"For the Lord God is a sun and shield; the Lord will give grace and glory; no good thing will He withhold from those who walk uprightly" (Psalm 84:11 NKJV).
Therefore, beloved, if He'll give one person or group the ability to understand times and seasons, He'll do the same for you. 🙂
So, ask Him for the same gifting He gave the children of Issachar, and then watch to see how He answers!
In Genesis 3:22-24, God stationed an angel and a flaming sword at the entrance to the Garden of Eden. The Bible says:
"Then the Lord God said, 'Behold, the man has become like one of Us, to know good and evil. And now, lest he put out his hand and take also of the tree of life, and eat, and live forever'–therefore the Lord God sent him out of the garden of Eden to till the ground from which he was taken.

So He drove out the man; and He placed cherubim at the east of the garden of Eden, and a flaming sword which turned every way, to guard the way to the tree of life" (Genesis 3:22-24 NKJV).
God placed an angel with a flaming sword at the entrance to the Garden for Adam and Eve's own safety.
He did this to keep Adam and Eve from going back in and eating from the tree of life, which would have preserved them forever in their fallen, sinful state. Putting a guard in front of the Garden may have seemed harsh, but He did it for their own good.
How many times do we also need the Lord to protect us from things we want for our own good?
Have you ever wished you could have your own personal angel, assigned to you, carrying his flaming sword and standing right in front of you if you even try to go down the wrong path? I have!
So, years and years ago, I began to pray for that very thing, both for myself and for others. My prayer went something like this when I was praying for myself:
"Lord, please send an angel with a flaming sword to guard me and keep me from going down any path that is not from You!"
After I began praying that simple prayer, I noticed that it was easier to make good decisions.
When I was praying for others, I would pray something like this:
"Father God, You see the decision they are considering. I don't think this is from You, Father, but only You know.
No matter what, Father, I pray that You would keep them in Your perfect will. Send an angel with a flaming sword that turns every way, and let Your angel stand right in front of them and keep them from going down any path that is not Your will for their life."
So many times, I saw God turn people around when I prayed that prayer.
On so many occasions, I would see people who were thinking about quitting on God's assignment; people who were trying to run from God; people who were getting off the straight and narrow path … but God answered that prayer and turned them around when I prayed for that angel with the flaming sword to come.
Beloved, I can't help but believe that God answers this prayer! I have seen the results of it with my own eyes, both for myself and for others.
So do you need some extra help from the Lord today?
Ask the Lord to send an angel with a flaming sword to stand in your path and keep you from going down any wrong way!
Isaiah 54:13 says, "All your children shall be taught by the Lord, and great shall be the peace of your children." In Hebrew, the words from that verse translated "taught by" mean "personally discipled by," and the word "peace" is "shalom"—meaning "nothing missing, nothing broken."
This verse is promising you that God Himself will personally disciple your children and bring them into a state of absolute perfection–nothing missing, nothing broken!
I want that for my child; don't you? I work so hard to be a good mother, but I am never sure that I am. I hope I am, but I am so conscious of my failings–and of the shortness of time. Only 18 short years with my little boy who is no longer a baby; what will I do with only 18 years? The years are flying so fast.
But beloved, there is comfort for us parents–and also comfort for spiritual parents.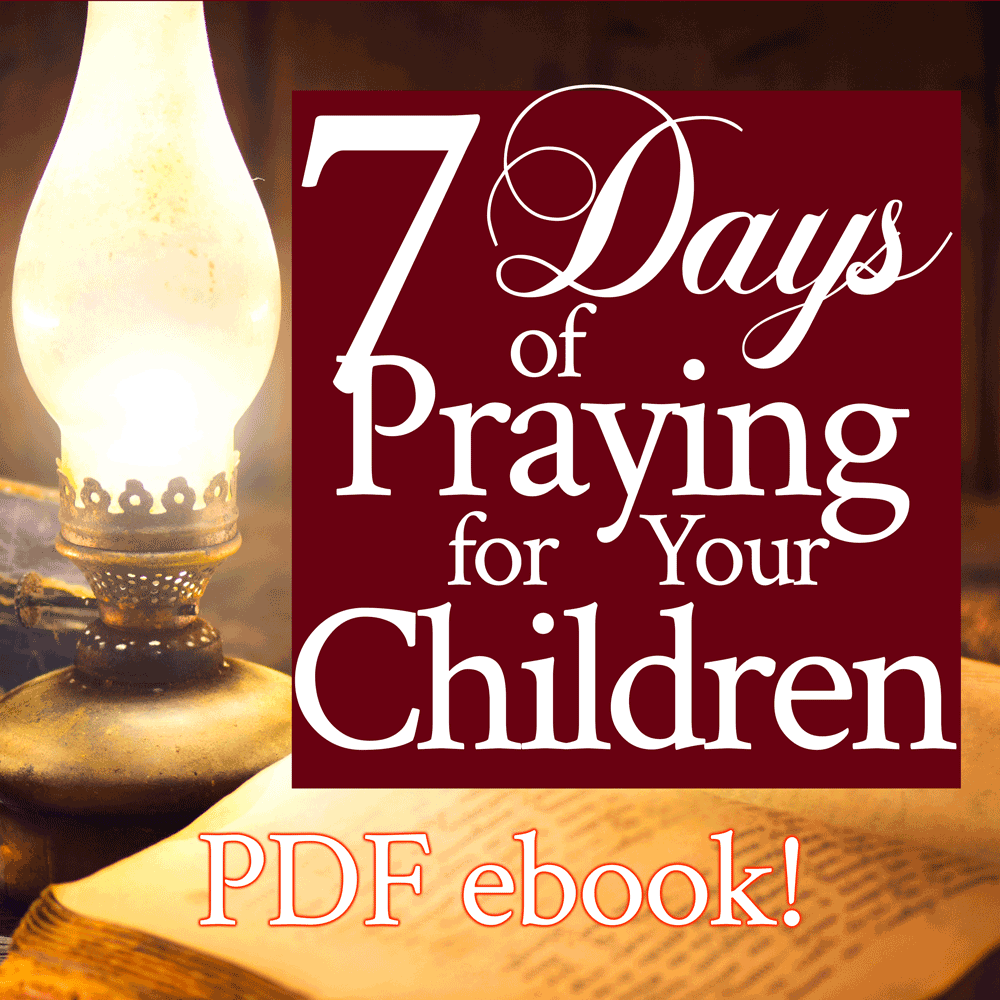 Related: Get my ebook, 7 Days of Praying for Your Children, here to help you pray Spirit-filled prayers over your children on a 7-day repeating cycle.
You and I can do our best with our children and spiritual children all day long. However, ultimately, we have to depend on Jesus–and if we will pray, Jesus will step in even now and help us.
He will disciple your children and my children personally.
Isn't that a comfort?
It's not that we won't do our best to be good parents and disciple our children. I know I will, and I believe you will too.
However, even though we do our best, Holy Spirit can do a much better job at drawing our babies to Jesus than we can. No man can come to Jesus unless the Father draws him anyway!
And when God Himself disciples our little ones, our children will be so blessed that nothing is missing from their lives, and nothing will be broken!
If this promise appeals to you and you need the Lord's help with your parenting, ask Him to personally disciple your children and bring them into a state of "shalom." His personal mentoring is a radical blessing that can shape your family for generations.
Radical blessing prayer 6: Ask Him to open divine rivers for you in desolate heights.
Just because you're successful, rich, beautiful, or any other good thing, doesn't mean you're happy. You do know that, right?
So beloved, know this:
The Lord sees you. And He sees that, even if things look great on the outside of your life, you may feel dry and lonely on the inside right now.
Is that you? Is this word for you today?
Do you feel dry and lonely on the inside, even if everything on the outside of your life looks like you are beautiful and healthy and successful and wealthy and all the things? You may be Instagram-worthy, but is your soul in dire need of water?
Oh beloved. If that is you, Father God is coming to your rescue right now!
Isaiah 41:17-18 says this:
"The poor and needy seek water, but there is none, their tongues fail for thirst. I, the Lord, will hear them; I, the God of Israel, will not forsake them.

I will open rivers in desolate heights, and fountains in the midst of the valleys; I will make the wilderness a pool of water, and the dry land springs of water."
In this passage, Father God–the One who knows you best and loves you most–promises to turn all your dry and lonely places into rivers of blessing and intimacy with Himself—even if, on the outside, you look like you're living in those beautiful mountain heights.
No matter where you are, Papa God sees you.
And He sees how you are really doing on the inside.
You are not hidden from Him. He sees you, and He knows you, and He loves you.
So beloved …
Don't be afraid to ask Him to help you, even if you already have a lot going for you. Even if you are blessed; even if you have a lot to thank God for–He still sees and cares for the needs of your soul.
Ask Him today to open His rivers for you, even in those desolate heights.
In Song of Solomon 2:10-14, we see Jesus calling us to Himself with many beautiful words. For example, He says:
"Rise up, my love, my fair one, and come away …"
"O my dove, in the clefts of the rock, in the secret places of the cliff, let me see your face, let me hear your voice …"
"… for your voice is sweet, and your face is lovely."
In the story of Solomon and his bride, the bride eventually gets up to meet with the king.
But how long has it been since you met up with your King?
How long has it been since you laid back on His bosom like John the Beloved, and just clung to Him?
Are you and I acting each day like the beloved Bride of Christ that we are?
Or, are we treating Christ like our handyman–letting Him help us get through each day, but stopping there?
Oh beloved. I have to admit that so many times I have treated Jesus like my handyman. I need His help but it can be so easy to forget about relationship.
This is why we must pray every day and ask Him to help us answer His bridal call.
How many times have we heard Jesus calling us—only to deny His call, ignore Him, or tell Him "later, Lord"? And yet, He yearns for us. He is yearning over you right now, and He's yearning over me. Oh how He longs to simply spend time in your embrace! He loves you so much!
The highest blessing we could ever receive from our God is simply the gift of His companionship—of intimacy with Him.
We all need blessings, but intimacy with Jesus is the greatest blessing there is. Every lesser blessing comes after we seek Him first (Matthew 6:33).
So, my friend, do you want the most radical of all blessings—that of intimacy with Christ? If so:
What greater obsession could there ever be than obsession with our Lord, Savior, and Bridegroom, Jesus Christ? No blessing could be greater than one-on-one intimacy with Jesus, the lover of your soul.
If you want this, pray for the blessing of the bride–and answer His bridal call today!
Radical blessing prayer 8: Ask the Lord to enlarge your heart!
Psalm 119:32 says, "I will run the course of Your commandments, for You shall enlarge my heart."
When I read this verse, I think of Secretariat, the great American racehorse who won the Triple Crown in 1973. After Secretariat died, veterinarians examined his body and determined that his heart was approximately 2.5 times the size of a normal horse's heart. He was able to run—and win—because the Creator had given him an enlarged heart!
Beloved, do you want to fight the good fight and finish your race in victory?
If so, ask the Lord to enlarge your heart! This doesn't necessarily mean that your heart will physically get bigger, but it does mean He will increase your capacity to run with Him. It also means:
When the Lord enlarges your heart, He will help you run the course of His commandments.
You will be able to finish your task and finish it well. You will operate 100% in the destiny and purpose God has for your life–because He will help you do so.
Radical blessing prayer 9: Ask Him to turn all your tears into joy.
Psalm 126:5-6 says:
"Those who sow in tears shall reap in joy. He who continually goes forth weeping, bearing seed for sowing, shall doubtless come again with rejoicing, bringing his sheaves with him."
Beloved, have you cried your share of tears–or more than your share? If so, the Lord wants to give you joy today.
There is always a payback and a recompense. The Lord hates what was done to you; He hates every effect of sin–and loss, pain, grief, death, betrayal, and sorrow are ALL effects of sin.
So the Lord has a payback and a recompense for you today. He wants to turn all your tears into joy RIGHT NOW.
Read Psalm 126:5-6, above, again. Did you notice the words "shall" and "doubtless" in that passage? Those words carry certainty; they are absolute promises.
Beloved, the Word of the Lord is good and is assured. If you have sown in tears, you WILL reap in joy.
The Lord will turn all your sorrows and tears into joy. His Word says He will work all things for your good if you love Him.
And yes, this promise is for you.
So beloved, don't just sit there! Take this promise seriously; pray into it right now!
Beloved, the Lord is near to the brokenhearted.
He saves those who trust in Him, and none who wait on Him will ever be put to shame. If you love Him, He will hear your prayer. And when He turns your captivity into freedom, you will have such joy that it will feel like a dream come true (Psalm 126:1).
In Psalm 68:19, David wrote: "Blessed be the Lord, who daily loads us with benefits, the God of our salvation! Selah."
When I discovered that promise a few years ago, I was so moved by it that I wanted to keep it in my mind always!
So, I purchased a visual reminder: a package of five children's toys—tiny yellow dump trucks, front-end loaders, and bulldozers. I felt that looking at these replicas of man-made machines would build my faith! And sure enough, it did. I kept the little model loaders near where I pray each day, and I began to pray something like this:
"Lord, this dozer can move a lot of stuff, but You are so much more powerful! Your Word says that eye has not seen, nor ear heard, nor have entered into the heart of man, the things You have prepared for me! And Your Word says that You will daily load me with benefits!
So thank You, Father, for everything You've already done … and I ask You, please don't stop! Please continue to load me down with benefits today, even more than I could ever ask or think. Thank You, Lord, in Jesus' name!"
When I started praying that way, it built my faith … and God responded.
I began to see even more blessings than usual. Why? Because I believed His Word that He daily loads us with benefits!
Beloved, do you want to see more of the Father's blessings in your life? If so, then go to Him in prayer today! Remind Him of this promise, and ask Him to load you down with His benefits today and every day going forward!
O beloved, God's Word contains many radical promises–and every promise is for YOU.
Every blessing He promises is for you, and you can take/receive them all through the funnel of PRAYER. When you pray these radical promises back to God, you are giving Him permission and grounds to work in your life and move on your behalf.
So what are you waiting for?
Agree with God's Word today. Pray these promises back to Him–along with all the other promises you can find! (There are thousands to choose from in the Bible!) God's Word is true, so pray it aggressively and you will not be denied!
Do these 10 Bible promises and prayers for radical blessing speak to your heart today? If so, leave a comment below! I'd love to hear what the Lord said to you as you prayed through these 10 promises!