25 Declarations of Immediately and Suddenly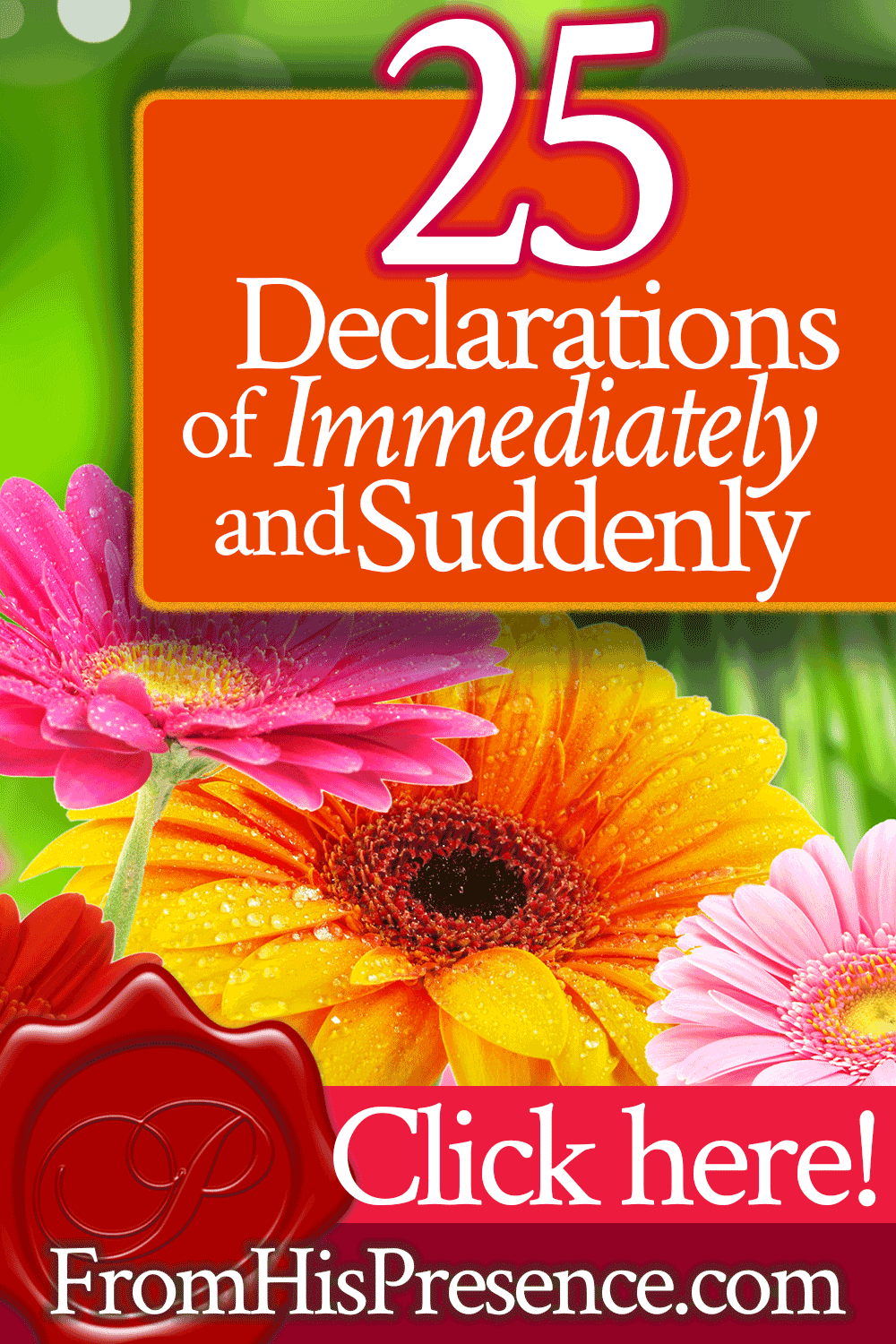 Do you need God to move suddenly on your behalf? He is in the habit of doing that, according to Scripture! So if you need Him to bring you breakthrough and miracles right this instant, speak His Word out loud today for the immediately and suddenly!
Why should you speak God's Word out loud?
Because the spoken word has tremendous power. Proverbs 18:21 tells us:
"Death and life are in the power of the tongue, and those who love it will eat its fruit" (Proverbs 18:21 NKJV).
Read these related articles about God's suddenlies!
And Proverbs 13:2 says:
"A man shall eat well by the fruit of his mouth, but the soul of the unfaithful feeds on violence" (Proverbs 13:2 NKJV).
So yes, it's very important to confess God's Word over yourself out loud.
If you will do that, you will see fruit. God's Word spoken out loud into the atmosphere produces results you can see every time!
Everything you see was created by the spoken word.
So if you have nothing except the ability to speak, you can still create anything you want. You can be like God and speak those things that are not as if they already were (Romans 4:17)!
To help you, Jamie wrote a book of hundreds of Biblical confessions for you—especially in the area of your finances. It called Speak Life Volume 1: Chart Your Course With Your Words, and it's our most popular book ever! Get your copy today and begin speaking LIFE over those things that concern you!
So don't wait; speak these 25 declarations of immediately and suddenly out loud over yourself today:
I turn toward Jesus in a new and desperate way right now, and suddenly His cloud covers me and His glory appears to me. (See Numbers 16:42.)
Jesus and His angels touch me suddenly today, and they minister to me. (See 1 Kings 19:5-7.)
The Lord speaks to me suddenly today, and I hear Him clearly. (See 1 Kings 19:13.)
God sends His true prophetic word to me suddenly today, and I listen and receive it. (See 1 Kings 20:13.)
God provides for me suddenly and richly today, and His provision comes from unexpected places. While He provides, He also destroys my enemies. (See 2 Kings 3:14-24.)
God purifies my family and myself suddenly today, so that we worship Him in Spirit and in truth. (See 2 Chronicles 29:36.)
Whenever I need provision, God moves the kings of the earth to send all the provision I need immediately, so that my work is not hindered. (See Ezra 6:8.)
All my enemies are ashamed and greatly troubled about their ungodly behavior; they turn back from attacking me, and they are suddenly ashamed and convicted. (See Psalm 6:10.)
I immediately leave everything Jesus asks me to leave, and I follow Him. (See Matthew 4:20-22.)
Jesus touches me right now, and instantly all sickness leaves me. (See Matthew 8:3.)
All evil things must immediately and suddenly leave me right now in Jesus' name, for I do not agree with any evil thing and God the Holy Spirit fills me and protects me. (See Matthew 8:32.)
I rest immediately when God says to rest, even if it doesn't seem like an opportune time to me. I trust the Lord's leading, and I follow Him even in rest. (See Matthew 14:22.)
When I am afraid or troubled, Jesus speaks to me immediately–and I hear His voice and am comforted. (See Matthew 14:27.)
When I feel like I am sinking, I call upon the Lord; and immediately Jesus stretches out His hand and catches me. (See Matthew 14:31.)
Jesus touches my eyes right now, and immediately my vision clears and I follow Jesus. (See Matthew 20:34.)
Anytime I need provision for the Lord's work, I follow the Lord's instructions and immediately He provides. (See Matthew 21:3.)
I pray to my Father right now, and He provides me with multitudes of angels to help me. (See Matthew 26:53.)
I cling to Jesus by faith, and immediately I am healed of all afflictions–physically, spiritually, mentally, emotionally, financially, and relationally. I receive immediate healing from Jesus right now by faith. (See Mark 5:25-29.)
I receive Jesus' touch and His Word right now, and everything in me comes to life. I am filled with life, and life abundantly–all because Jesus just touched me. (See Mark 5:41-42.)
When Jesus knocks on my door to dine with me, I open to Him immediately. (See Luke 12:36; Revelation 3:20.)
The Lord has given me the anointing of the sons of Issachar, that I may discern the times and the seasons, to know what I and God's people ought to do. And when I see the Lord's signs, I immediately know what He is saying about the times and seasons. (See Luke 12:54.)
My eyes are suddenly opened by God, and I clearly see His Son Jesus. (See Luke 24:31.)
I receive miracles of God's sudden and immediate help today. (See John 6:21.)
When I submit myself to Jesus, immediately His perfect will is accomplished in me, through me, and for me. (See John 6:21.)
Even at the midnight hour, I pray and sing hymns to God. And when I do, everything that binds me is shaken off. Immediately the chains fall off and doors are opened to me, so I can go out free. (See Acts 16:25-26.)
Learn more about God's Word by exploring our How to Know the Bible is True series!
Friend, God is ready and willing to move on your behalf today.
If you call upon Him, you can see Him move immediately and suddenly to help you. All it takes is faith.
So do you believe that our Father is for you? Do you believe that His Word is true? If so, then remember that God is no respecter of persons; what He has done for someone else, He will do for you!
Did these 25 declarations of immediately and suddenly build your faith today? Leave a comment below if so!
Our Favorite MIRACLE RESOURCES
Read More on Miracles: